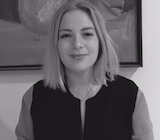 Sophie M
My Passion & How I Inspire
I care deeply about helping people to develop confidence in their ideas and their imaginative capacities and recognise that many of these pivotal moments happen whilst we are still in education. As a practicing artist I know how moving from tender beginnings of ideas into manifesting artworks requires real courage and commitment. Having someone someone you can trust in to support and reflect in the process with, who can see your vision with you, is invaluable in nurturing the self-confidence one needs to pursue a creative career. Creative minds work individually and so I always tailor my tuition to try to bring out the unique potential in my students. My lessons are challenging and inspiring and aimed to expand ideas and fuel self belief. I also like to help students develop strong organisation skills around their projects so that they feel empowered and supported to bring their ideas to life.
My Experience
I bring years of experience as a tutor working both in academic support and on creative idea development sessions with clients. I teach Fine Art and Art History up to Postgraduate level , English Literature up to A-Level and Creative Writing on all levels. I work with published authors on ideas development , structure and editing , and hold creative project mentoring sessions for visual artists too. I have a strong understanding of how to put together dynamic engaging and truly individual portfolios that will stand out, having previously helped students put together successful portfolios for Wimbledon College of Art , Byam Shaw and The Slade. As a practicing artist and writer I understand the inspiration and commitment required to manifest and communicate unique ideas and am committed to facilitating creative people in fulfilling their potential.
Subjects That I Teach
Art and Design
Art and Design - GCSE
Art and Design - Undergraduate
Art and Design - Postgraduate
Creative Writing
Creative Writing - GCSE
Creative Writing - Undergraduate
Creative Writing - Postgraduate
English
English - GCSE
English - Undergraduate
English - Postgraduate
Fine Art
Fine Art - GCSE
Fine Art - Undergraduate
Fine Art - Postgraduate
History of Art
History of Art - GCSE
History of Art - Undergraduate
History of Art - Postgraduate
History
History - GCSE
History - Undergraduate
History - Postgraduate
My Qualifications
Channing School
A Levels : Art-A English-A Biology-B
Art Foundation : Passed with Distinction
Fine Art MA Edinburgh University (Five year course BA and MA combined) : Received First Class Honours
Fun fact
I once taught a Life Drawing evening at Laura Marlings house for her and her friends!