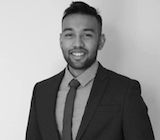 Shavin
My Passion & How I Inspire
I like to get to know the student beforehand and identify areas of confidence and problem areas. I tailor-made each tuition session with a lesson plan where we review key themes and topics (especially confidence areas), and then work through examples for problem areas. That said, I prefer a conversational style of learning (which has worked best in my experience), and while lesson plans provide a structure, we often veer into tangents according to the student's needs.
I also engage with students with weekly follow-ups to see how they feel they are progressing.
My Experience
I have tutored students in French, helping them gaining confidence in tricky aspects of French grammar and gain more confidence in using both formal and conversational French.
I have also worked with people sitting level 1 and 2 ACCA exams, and was especially helpful for Financial Accounting, Management Accounting and Financial Reporting, as well as covering basics of Accounting (from debits and credits to your management processes).
More recently, I have helped a few people go through their university and scholarship applications, as well as coaching others for their interviews at Big four firms.
Subjects That I Teach
Accounting
Accounting - A-Level
Accounting - ACA
Accounting - ACCA
Finance
Finance - A-Level
French
French - A-Level
Management
Management - A-Level
Sociology
Sociology - A-Level
My Qualifications
Royal College Curepipe (A-levels):
French (A)
English literature (A)
Sociology (A)
General Paper (a)
Ranked 3rd nationally
Founded Debating and Public Speaking society
Warwick University
BA (hons) Politics and Sociology
Worked pro-bono for law society as internal liaison officer
Association of Chartered Certified Accountants
ACCA
Certificate in Business Valuations
Fun fact
I am on the cover of my last employer's annual report. Oh and I play the erhu to intermediate level, and I am currently learning Mandarin!