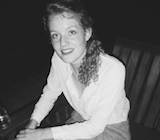 Nina K
My Passion & How I Inspire
I am enthusiastic about learning and believe that anyone can develop the necessary skills to achieve their goals. I aim to tailor my classes to the needs of each student, as everyone has different strengths, weaknesses and ways of going about their study.
I strive to engage my students by making presenting the material in a lively and interesting fashion. I seek to provide an encouraging and enjoyable space to learn and discuss the key topics in easily memorable ways.
My Experience
I fell in love with teaching working for Bridge the Gap as a High School student in San Francisco. As part of my role, I tutored students from underprivileged backgrounds between the ages of eight and thirteen in maths, history and English.
During my first undergraduate degree, I continued to tutor in a private capacity and became a paid teacher's assistant. For this position, I completed a 3-month course in pedagogy and spent a year tutoring first year undergraduate students in English Literature, Philosophy, History, and Politics. I helped students with their writing and comprehension by developing techniques to improve textual analysis and idea development.
In addition to tutoring my fellow undergraduate students at Bard College, I tutored at a maximum security prison in New York to enable prisoners the ability to pursue an undergraduate degree behind bars. I tutored my students in English, English Literature, History and Politics. I also tutored my students in their dissertations.
During my second undergraduate degree at the University of Cambridge, I conducted practice interviews with students from underprivileged backgrounds interested in applying to Oxford and Cambridge. I worked under the supervision of my Dean of Students in Law and provided feedback to the students to improve their interview skills.
Subjects That I Teach
Dutch
Dutch - GCSE
Dutch - Undergraduate
Dutch - 11+
English
English - GCSE
English - Undergraduate
English - 11+
French
French - GCSE
French - Undergraduate
French - 11+
History
History - GCSE
History - Undergraduate
History - 11+
International Relations
International Relations - GCSE
International Relations - Undergraduate
International Relations - 11+
Law
Law - GCSE
Law - Undergraduate
Law - 11+
Philosophy
Philosophy - GCSE
Philosophy - Undergraduate
Philosophy - 11+
Politics
Politics - GCSE
Politics - Undergraduate
Politics - 11+
My Qualifications
BA Hons (2.1), Law, University of Cambridge
Cripps Scholarship Award (£25,000)
BA (Cum Laude), Politics, Bard College
Bard Research in Human Rights Award ($3,000)
BRAVE Award ($3,000)
High School Diploma, The Bay School of San Francisco with A-Level equivalents in English Literature, Philosophy, French, and Politics
Fun fact
When I am not tutoring or working at a law firm, I clamber on London climbing walls, peddle a heavy Dutch bicycle around, and nibble on many a halloumi burger.