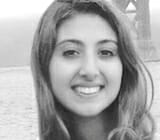 Mery
My Passion & How I Inspire
I believe that Personal tuition is the foundation for deep understanding, and acquirement of a subject.  My aim as a tutor is to provide my students with enough confidence to speak languages and capacity to answer exam questions.
My philosophy is based on the idea that "A good teacher, like a good entertainer first must hold his audience's attention, then he can teach his lesson". As such, I encourage students to use real-world examples that can attract their attention.
My experience has been that one-to-one personal tuition helps students to resolve their personal struggles to learning a particular subject and to achieve their full potential.
My Experience
Private Maths tutor for secondary students in Madrid, Spain.
Private teacher at Class A languages (Summer 2014).
Education counsellor at summer camp: After a one-year course on how to lead and coordinate recreational and cultural activities for groups I ran activities for kids aged 8 to 16.
Private informatics tutor (Microsoft office pack, photoshop and basic tools).
Subjects That I Teach
Computer Science
Computer Science - A-Level
Computer Science - GCSE
Hebrew
Hebrew - A-Level
Hebrew - GCSE
Maths
Maths - A-Level
Maths - GCSE
Science
Science - A-Level
Science - GCSE
Spanish
Spanish - A-Level
Spanish - GCSE
My Qualifications
I am Currently studying Mathematics and Computer Science at Imperial College London (2013 – 2017 expected)
I graduated from IBN Gabirol High School in Madrid Spain. I studied the Scientific 'Bachillerato' (equivalent to A-levels) with an overall average mark 9,8 out of 10.
Throughout my school years I was awarded the Honorable Mention in Compulsory Secondary Education (Awarded by Madrid Regional Council in 2011) and Academic Excellence Award (Awarded by Ibn Gabirol School in 2013)
I also attended Yale University English language institute in New Haven, USA for a University and communication skills preparation program.
Fun fact
I have worked to ensure safety and security in specific events. To do so, I have been trained in Krav Maga a self-defense method!