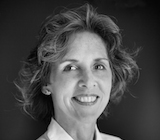 Lisa
My Passion & How I Inspire
I inspire my tutees to approach their studies with curiosity and perseverance. I show them that learning is a combination of perseverance and creativity.
Each of us is unique, with a special capability for learning and using that knowledge.  I let tutees set their own goals and find their best methods for fulfilling assignments or assessing what they have done, whenever I can. I am there as a guide to light their paths. 
We all learn best when we can create and engage in the task at hand. My lessons are tailor-made; together we find the way to achieve their goals.
My Experience
15+ years of university lecturing:
English Literature and Language
Writing - Academic, Business, Creative
Presentations
University-level academic English for one-to-one argumentative essay skills
One-to-one ESL support in reading, writing, speaking, and listening
One-to-one total ESL immersion via Berlitz for ages 8 through adult
Mentoring private clients for ESL support in Cambridge English proficiency exams
Subjects That I Teach
Life In The UK Test
Creative Writing
English
My Qualifications
MA Creative Writing (University of Lancaster)
MA English Literature (University of Chicago)
BA Hons Chinese Studies (University of Virginia)
Certificate - Teaching Skills and Systems (University of East Anglia)
Certificate - Anatomy and Physiology (School of Homeopathy)
Qualification - Hatha Yoga Instructor
Professional membership in National Association for Writing in Education, the College of Medicine, the Society of Homeopaths and numerous writing organisations.
My Reviews
Lisa's feedback was incisive and perceptive; she has a great ability to pick up on complex and detailed writing issues. The objective input was invaluable, and quickly helped me establish the main recurring errors in my writing style. The feedback will help improve all my future writing.
Anne W.
Lisa has a commitment and enthusiasm which generate a warm atmosphere and provide just the motivation students need.  She is extremely flexible.
John W.
Lisa has a passion for writing, which is contagious and a deep commitment to helping her student to progress. I felt so valued, supported and encouraged by her. This enabled me to relax and experiment with my writing. I particularly appreciate Lisa's flexible and collaborative style of teaching – she always welcomed my input and designed the session to suit my needs.
Kim M.
Fun fact
I speak conversational Italian, study science and alternative medicine and am a fiction editor!