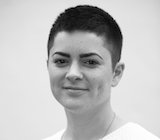 Imogen
My Passion & How I Inspire
I treat my students with respect and listen to their needs and concerns.  I like to create a plan of action together, with clear time-based goals based on what the student wants to achieve.  I am friendly and approachable and want my students to feel reassured and happy through our sessions.
My Experience
I have worked extensively with organisations such as Open City and Construction Youth, offering tutoring to "hard to reach" young people to help them get into architecture.  With these organisations I have helped students hone a range of skills including portfolio production, conceptual thinking and design, drawing and model making, giving presentations, and interview technique.  Additionally I have done private tutoring with a particular focus on portfolio preparation.
My Qualifications
I have an Undergraduate degree in Architecture from The Bartlett (UCL), a Masters degree in Architecture from the University of Westminster, and am currently completing my Part 3 professional exams in Architecture.  Additionally I have a Foundation Degree in Art and Design.
Fun fact
I was one of the model makers for the music video for Second Song, by TV On The Radio. All the models and sets were made by hand from paper, card and foam!