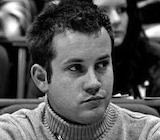 David
My Passion & How I Inspire
Throughout my time in education I have developed an inquisitive mind in the learning process with the ability of working well with others. Disseminating knowledge in a way that engages and aspires is important and in helping learners build on their skills. I have researched and explored a variety of teaching methods including embedding technology into lessons to help develop and expand on a range of learning styles.
My Experience
Since graduating I have worked in secondary schools and FE colleges as a business studies teacher and land based lecturer.
I have organised workshops on preparing business plans with the support of the princess trust.
In addition I have been a mentor to individual learners which has included e-learning.
Subjects That I Teach
Business Studies
Business Studies - A-Level
Business Studies - GCSE
Business Studies - Undergraduate
ICT
ICT - A-Level
ICT - GCSE
ICT - Undergraduate
My Qualifications
PGCE, teaching certificate.
Batchelor of science honours degree in land based management and business studies from the University of Essex.
My Reviews
Very knowledgeable and interactive. Great help with porters five forces, marketing and pestel analysis.
Very engaging workshop on business plans and preparing them for a dragon's den style pitch.
Fun fact
After graduating I won a travel award to the Netherlands and Greece to meet with business owners!