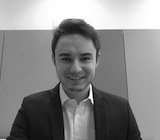 David A
My Passion & How I Inspire
I employ a two-step method to tuition, firstly I guide students through the main principle and a few example questions before allowing them to tackle their own problems. In the second part of this approach I encourage students to use their own preferred problem solving method, as there are often many different ways of arriving at the correct answer in Maths and Physics. I strongly believe the most effective way to learn in these areas is on a student's own terms, using the methods they are most comfortable with.
My Experience
Tutoring IGCSE International Mathematics at an International Private School in Prague, Czech Republic since 2014
Tutoring IB Mathematics, IB Physics, IB Economics since 2014
Subjects That I Teach
Economics
Economics - IB
Economics - GCSE
Maths
Maths - IB
Maths - GCSE
Physics
Physics - IB
Physics - GCSE
My Qualifications
5A*s IGCSE, 3A IGCSE, 2B IGCSE
42 International Baccalaureate Points
Fun fact
I love to travel and volunteer all around the world, recently I spent a week working at an Orphanage in the middle of Thailand!