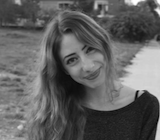 Danielle
My Passion & How I Inspire
I first make sure that the groundwork and theoretical frameworks are fully understood before challenging and encouraging the student to expand and apply their understanding by writing essay plans or essays. I therefore like to begin the class with a 10 to 15 minute discussion and recap, asking and receiving questions about the week's topic before embarking on developing practical and argumentative skills that allow the student to really engage with and tackle potential exam questions.
My Experience
Tutoring 2 high school students A-Level History and English Literature, focusing on essay writing and argumentative skills.
Subjects That I Teach
Greek - Modern
Anthropology
Anthropology - A-Level
Anthropology - Undergraduate
GRE
GRE - A-Level
GRE - Undergraduate
Greek
Greek - A-Level
Greek - Undergraduate
My Qualifications
6A*s GCSE, 3As
3As A level (History, Biology, Maths), B English Literature
1st Class Honours (LSE Bsc Anthropology)
My Reviews
'My favourite thing about Danielle is that she never spoonfeeds you, but challenges you to find the solution on your own. Surprisingly most times you do, and once you do, you've got it forever!'- Nicolas Makrides, tutee in English Literature.
Fun fact
I have recently been on a sponsored climb to the top of Mt Kilimanjaro, raising £3,000 pounds for the charity DigDeep!