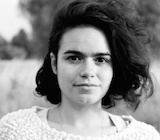 Andrea S
My Passion & How I Inspire
Focusing on the students individual needs and unraveling specific areas requiring support. Every student has a unique learning method and finding the most effective way for the student to receive and articulate information is crucial in order to solidify these ways of working in order to achieve academically through all areas of education.
My Experience
Working as a primary teaching assistant and a secondary supply teacher in various private schools around London. This involved working with the teacher to give extra attention where required to individual students, helping to keep groups calm and engaged in their lessons, being on hand for any tasks that need completing.
Subjects That I Teach
Drama
Drama - A-Level
Drama - IB
Drama - Undergraduate
English
English - A-Level
English - IB
English - Undergraduate
History of Art
History of Art - A-Level
History of Art - IB
History of Art - Undergraduate
History
History - A-Level
History - IB
History - Undergraduate
My Qualifications
Postgraduate Devising and Performance Practice
BA History Of Art and Archaeology
BTEC Performing Arts
IB
My Reviews
'Engaging, compassionate and understanding'
Fun fact
In the 6th Harry Potter film I play Katie Bell's friend from Gryffindor!