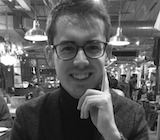 Alistair
My Passion & How I Inspire
My teaching style combines formal pedagogical approaches learned through my teacher training, and the academic credentials I honed during my bachelor's degree. I like to expose my pupils to a range of problem-solving puzzles and articles to expand their horizons and help them to explore their subject from a new perspective.
No two students or lessons are the same, and I pride myself on my ability explore the learner's needs and interests before tailoring my teaching style to their needs.
My Experience
I am a primary school teacher, and also have a number of years' experience teaching children and adults of all ages. In the past I focused on English as a Second Language, and more recently have tutored for the 11+, and Edexcel A Level History (as well as AS Level Government and Politics), alongside IB and A Level German.
Subjects That I Teach
English
English - A-Level
English - 11+
German
German - A-Level
German - 11+
History
History - A-Level
History - 11+
Maths
Maths - A-Level
Maths - 11+
My Qualifications
University College London – PGCE (Teach First) (July 2017)
University of Oxford – BA History and Modern Languages (German) – First Class (July 2016)
City of London School – A Levels: History (A*), German (A*), French (A)
Fun fact
I recently appeared on Al Jazeera, participating in a discussion show about Brexit!