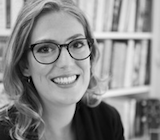 Alice F
My Passion & How I Inspire
I believe that with the right mindset and the right teaching, everyone can fulfil their potential. There's no such thing as being 'bad' at English: it's a skill like any other – it takes time to learn, and it requires practice, but you'll get there in the end!
Confidence and motivation are essential for success, so my approach is to find the teaching and learning methods which work best for you. Our lessons will be enjoyable, engaging and useful. Whether you're struggling with a set text, hoping to improve the grade on your school or university essays, needing a little help with your Personal Statement, or looking for personalized reading lists and essay titles to challenge you, I'll provide you with highly effective tailor-made tuition.
I aim to give you the tools and the knowledge you need to boost your self-belief and your grades. Beyond that, I hope to teach you the skills of successful independent learning which you can use across all your subjects and into later life.
My Experience
I've taught English Language and Literature to secondary school students for six years.
At The Perse School in Cambridge (co-ed), I taught Years 7-13 and prepared students for their IGCSE, AS and A Level exams (OCR).
At Eton College, I taught CIE's English Language and Literature IGCSEs, as well as the Pre-U English Literature course. As Deputy Head of English there, I helped design, orchestrate and deliver the Sixth Form course, and was responsible for the creation of departmental resources.
I also ran Eton's English at University preparation course for four years, and helped a high number of students gain offers from the university of their choice – often Oxford or Cambridge.
Part of my role at Eton included giving one-to-one tutorials to students looking for extra help with their university application or in the run-up to public exams, and I'm familiar with tailoring my teaching to individuals with SEND.
I'm delighted to have a wealth of resources, contacts and experience with which to meet the needs of my new students.
Subjects That I Teach
English - Pre U
ACT
ACT - GCSE
ACT - Undergraduate
English
English - GCSE
English - Undergraduate
My Qualifications
First in English Language and Literature from the University of Oxford
First in Moderations - Academic Scholarship at Keble College, Oxford
Over 90% in Oxford's ELAT
Distinction in the English Literature Advanced Extension Award
3As at A Level (English Literature, History of Art, Ancient Greek), including 100% in each of my English Literature modules
4 As at AS Level (English Literature, History of Art, Ancient Greek, French)
9 A*s (including English Language and English Literature) and 2 As at GCSE
I was a School Prefect and Head of the Literary Society at Marlborough College
Fun fact
I love Shakespeare and share my name with one of his minor characters - can you name the play?